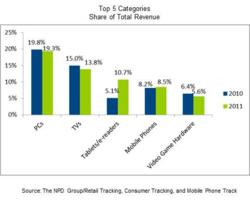 PCs and TVs still represent the two largest categories of U.S. consumer technology hardware and consumables sold in 2011.
But tablets and and mobile phones are the third and fourth largest product categories, by revenue.
Revenue from products was about $144 billion according to
The NPD Group
.
PCs represented the most revenue with nearly $28 billion in sales, accounting for almost 20 percent of sales.
Tablets and e-readers were the clear growth categories in 2011, nearly doubling sales to $15 billion in 2011.
And it appears that consumers are shifting spending from other categories toward the top-five categories.
"U.S. hardware sales growth is becoming harder and harder to achieve at the broad industry level," said
Stephen Baker
, Vice President of Industry Analysis at NPD. "Sales outside of the top five categories fell by eight percent in 2011 as consumers shifted spending from older technologies to a narrow range of products."
Apple was the leading consumer electronics brand for the second year in a row. Among the top five brands Apple was the only one to experience a sales increase, posting a 36 percent rise over 2010.
Sales through online, direct mail, and TV shopping channels jumped seven percent and accounted for 24 percent of all sales, up from 22 percent in 2010.
Sales through these non-retail channels captured 25 percent of industry revenue in the
fourth quarter of 2011.