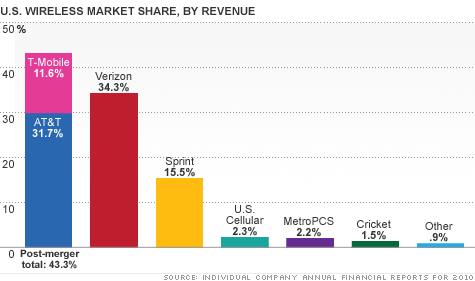 On November 23, 2011, AT&T and Deutsche Telekom withdrew their applications to combine spectrum owned by both companies, something that would be required if AT&T were to succeed in acquiring T-Mobile USA.
AT&T also says it will take a pretax accounting charge of $4 billion ($3 billion cash and $1 billion book value of spectrum) in the 4
th
quarter of 2011 to reflect the potential break up fees due Deutsche Telekom in the event the transaction does not receive regulatory approval.
AT&T says it still is pursuing the deal, but the taking of the charge and withdrawal of applications indicate, at the very least, that AT&T thinks prospects are dimming, if not a definitive recognition that the bid will fail. AT&T Throwing in Towel on T-Mobile USA?
Given the fact that the accounting charge will be taken in advance of the time the Department of Justice antitrust hearing would occur, some will speculate that AT&T plans to withdraw its bid to buy T-Mobile USA before the hearing.
It is starting to look as though AT&T is preparing to abandon its acquisition attempt.